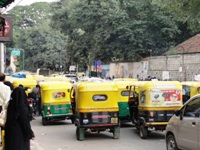 Auto rickshaws - typically about 25% of all traffic and usually at the front of the queue!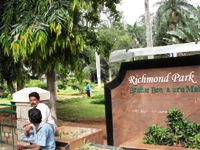 Had we stayed in Bangalore we would have lived in Richmond Town, complete with Richmond Park - a funny coincidence
Bangalore
Getting local buses was now becoming part of the routine and we managed to get one from Thiruvannamalai to Bangalore as it was literally pulling out of the bus depot. We had been aiming for a later bus but this was fairly empty, which was essential with all our luggage. The 5 hour trip turned to six because there was a lot of traffic en-route and coming into Bangalore.
These bus trips were a bit of a cheap thrill as much of it was so bumpy that you had to hang on and brace yourself. If you shut your eyes you could imagine being on a ride at Thorpe Park. As this was a longer journey there was one pit stop and 'pit' describes well the men's facilities, which are common to many of the bus stations. They are like open pig pens, lined up down one side of the bus station for all to see. The men walk over en-mass and take one pen each. There is no water, so the whole area reeks of stale urine. The ladies loos were no more desirable but at least private.
Out hotel room was very central; another more than adequate square box. The first thing that hit us about Bangalore was the fact that it did have pavements you could walk on. We had become very use to walking on the road alongside the pavement as footpaths were full of stalls, rubbish and people's living quarters. This bonus was matched by another challenge – crossing the road. The roads are very wide and some have no traffic lights, so there is literally no break in the traffic. You just have to walk out into it trying to miss the motorbikes and auto rickshaws that are weaving between the trucks and cars. A truly frightening experience.
Bangalore is quite western but still India. No cows hold up the traffic in the central area and there is some order and understanding of service. Our first priority was getting Guy's phone fixed, as his screen had broken during one of our luggage hauling sessions. We eventually found a young man who had a business in a shop the size of a telephone box under the stairs leading up to a shopping centre.
The next objective was to see if this was a place we could live. It was easy to see that life here would be trouble-free; with an expatriate community in easy reach. We had discovered that the free shopping booklets found in hotels and tourist sites advertised serviced apartments, so over coffee we systematically went through all the options. We also paid a visit to Global Adjustments, who out of the kindness of their heart gave us an excellent contact and even put some pressure on the manager to give us a good price.
We walked miles and miles and saw many apartments. Most out of our price range as it was difficult to get a sensible answer about price until you are standing face-to-face. Several also worked on the share a flat basis, where you had your own room/bathroom but shared the lounge and kitchen. I had thought out student days were over!! We did find two palces we could have happily lived, by share coincidence they wre both in 'Richmond'. We left Bangalore though feeling that living there would be robbing ourselves of the experience we were looking for but we had enjoyed our stay.
The next trip was a 3 hour bus trip to Mysore. We upgraded to the a/c bus where luggage could be stored under the bus. The a/c buses can also be pre-booked and we knew this was a popular destination where it was possible we might have to stand for the entire journey.