Christmas in Kochi
It was sad to be away from family at Christmas, so we focused on a 'chilled out' version in the sun. We had visited a local church a couple of times, so went there for the carol service and on Christmas day. The church is one of my favourite buildings, Colonial in design, with French doors on both sides on the upper and lower floors. It is all white with many fans, lattice work, lanterns and wooden pews.

Even on the hottest days it is cool and a lovely place to sit.
At the carol service there were people standing and the church holds about 500.

The singing was absolutely amazing but you had to be very patient to be rewarded. The first hour was welcome speeches and the whole service 3 hours!!!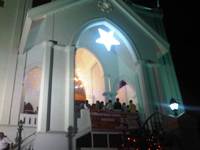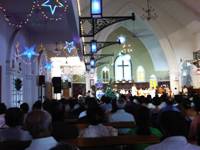 Kerala has many Christians so Christmas was in the shops and there was a general air of excitement. There were lots of artificial trees on sale, and yards of tinsel and plastic decorations.

The most popular Christmas decoration is a large star. There aren't any department stores (although several shops covering numerous floors specialise in jewellery or saris/shawar kameez) so all the Christmas paraphernalia was sold on the street or at the front of shops that usually sold something else.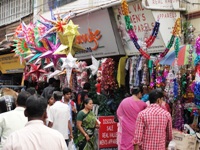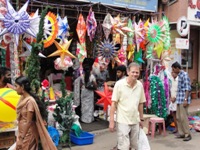 On the week coming up to Christmas we (I) couldn't resist any longer. We may only be here for one Christmas but we had to have a tree – just a little one.

Buying decorations as well seemed to be too indulgent so we reverted to making our own.

Guy and I spent a happy day designing and painting. We also decided that wrapping paper was unnecessary, so we reverted to newspaper. Guy really up'd the stakes as he wrapped his gifts first and managed to get a coloured picture on the front of each parcel.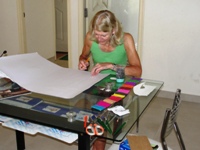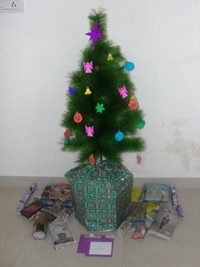 Christmas day started early as the English service is always at 7.30 a.m. and Christmas day was no exception. We walk everywhere and the walk to church and back is about 3 miles. It is too hot to rush. Breakfast was a light snack when we came home but we had spent the previous day buying all the local goodies we like.
Getting back into our walking shoes we headed up to the ferry, about 1.5 miles each way to head to Willingdon island for lunch. I had tried to book this lunch 3 times and of course on arrival they said there was no such booking!!! We discovered way down on the list a booking for Mr Judi. Lunch though was superb with two complimentary glasses of wine and a premium seat in the restaurant, with a great view of the harbour and shipping activity.
The highlights of the rest of the day were talking to family, pulling our home made crackers, opening presents and drinking the first wine we had had in 2 months! We even got a free fireworks display as the hotel in Bolgaty Island, directly opposite us, was holding an event. It was a

very pleasant and happy day.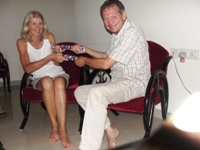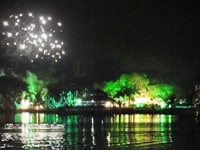 JS