Cows have rights everywhere in India - even on the beach!
One of the carvings on a boulder - lots of nice details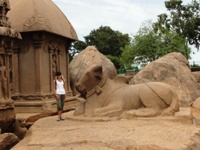 A carving from a complete boulder - the god Shiva's bull
Our balcony, like many things, good in concept but a bit unloved
Mamallapuram
Mamallapuram is written up as the ideal beach hangout for travellers tired of the road. It has the added benefit of unique tourist sites in the form of huge carvings cut out of outcrops of boulders and bedrock in the area – measuring 10s of metres long and 5 metres high.
Having said all that, it falls a bit between the stools. It has a good beach – but it is not very safe for swimming and dirty around the town area. There are restaurants at the back of the beach but no beach bars and cafés in which to while away the hot hours in the day. There are local fishing boats pulled up on the beach and seafood is a speciality – but fresh fish meals cost twice as much as normal menu items!
We enjoyed the carvings which were well presented – probably because they are a UNESCO site. Having said that, to be totally philistine, you can get "carvinged out" after a few. The usual downsides of tourist sites in India were also well in evidence – touts for artisan workshops and sellers of trinkets. "I am just a student studying English – do you want to see my carvings?" gets tedious after the 5th time.
The town itself is OK for a day or two but not more. Being a bit small there is not the reliable market for more specialised restaurants, so there are a lot offering the same menu. Having said this, a French owned place served Judi a plate of chicken "salad" but with cooked vegetables which had her drooling – vegetables (out of curries) are not commonly available and are sorely missed!
Our hotel was "what it said on the tin" or at least what it said in Lonely Planet. Unpretentious and a bit chaotic but family run and very friendly. The room had the basics and the friendly atmosphere made it a good place to be.
Overall, a visit we enjoyed but ready to move on.