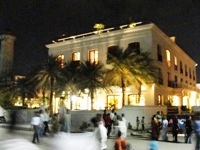 A colonial villa on the seafront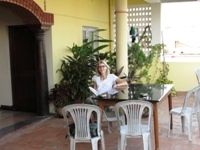 Judi relaxing on the hotel balcony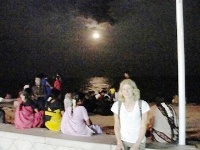 Judi on the moonlit seafront promenade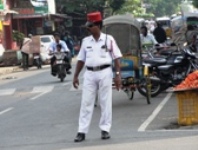 Colonial influence - a traffic policeman in red French kepi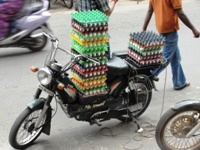 Motorbikes outnumber cars and vans - taking over many duties including egg delivery!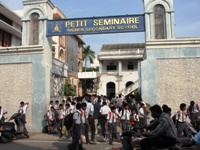 Liberation from school for the day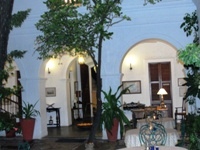 The eventual venue for Judi's birthday dinner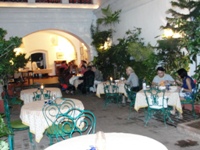 This is an outside courtyard - luckily it didn't rain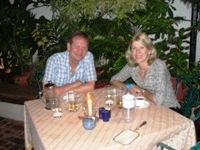 The happy couple. Wine is very expensive so we were drinking beer
Pondicherry
Guy was demonstrating a more adventurous spirit than me and he was determined to get a local bus to Pondicherry. There was no bus stop for this particular journey but we found out you stand on a corner of the main road, and flag down the bus you want. Our fingers were crossed that the destination of the bus would be shown in English and Tamil, on observation this seemed a hit and miss affair. I spent the waiting time practicing lifting my lump of a bag, so I could quickly heave it into the bus. On local buses you have to take all your luggage into the bus. Guy was being noble and offering to try to sort out the big bags if I took charge of the 'carry-ons' and any ticket buying.
Luck was with us as we hailed the right bus and the conductor was eager to get us on board. He just wanted to us 'boarded' so they could continue. Thank goodness the bus wasn't very full and Guy managed to get on with one big bag and was heading down to the back of the bus with it. I was standing with the other large bag at the door as the bus started to move. Those bag lifting practice sessions came to the rescue, as I had to haul the bag and me into the bus instantly!
The conductor took fares once people were seated (if there were spare seats). Our fare was a meagre Rs120 (£2) which suddenly turned into Rs200 when the conductor realised a small profit could be made for himself. All was done with smiles and we did take up 4 seats!!
We were getting into quite a good routine of pre-booking our accommodation using the Rough Guide and Lovely Planet. Places were very much as described as long as you remembered you were in India – "This central heritage guest house has smallish rooms --- but a touch of old-world charm and a balcony overlooking the street" (second photograph). The wide corridors and open balcony certainly added to the atmosphere as most cheap hotels seem to specialise in gloomy narrow hallways.
Pondicherry is an old French colonial town with lots of character, especially the street by the coast where the old town was established. It is where the Sri Aurobindo Ashram can be found, which is one of the best-known and wealthiest ashrams in India. The area of the ashram is car free and covers many blocks. We did venture into the only part of the ashram open to the public, which is a tiny garden with a shrine where you can worship 'Sri Aurobindo' and 'The Mother'. Ashrams develop when a spiritual leader gains numerous followers who want to come and learn from the guru. Sri Aurobindo founded this ashram in 1926 with a French woman known as The Mother – his chief disciple/mouth-piece.
This ashram is big business and many of the shops around the town have 'auro' somewhere in their name. The Mother also started an international living experiment for people of all creeds, nationalities and politics, Auroville. It has four zones -cultural, international, industrial and residential. They have 25 sq km and in the words of The Mother 'There should be somewhere upon Earth a place that no nation could claim as its sole property, a place where all human beings of goodwill, sincere in their aspiration, could live freely as citizens of the world'. This experiemnt has been very sucessful.
Because of the French influence and quite a lot of international interest in this town there are some more European coffee shops and restaurants. Normally, these would only be found in the bigger cities. I had my birthday here and the day was one of food indulgence, starting with a latte and muffin. Not quite Starbucks but not too bad.
In the evening we headed to the nicest restaurant in town but left after 5 minutes! It wasn't cheap and after being given a very dirty menu, subjected to loud music and anything but help from the staff we decided to find somewhere else. We found a hotel with an inner courtyard and lots of French influence. It was great; one of my wishes for the day was to have vegetables minus 'the curry sauce' and some protein. A good portion of protein is lacking in most local dishes. There is meat and fish but usually lots of bone and very, very little flesh.
One of the pleasures of Pondicherry was walking by the sea. There is a wide pavement and a festive air with large family groups tasting the many snacks on sale. There is a huge range of Indian snacks and frequent nibbling is part of life. The sea breeze is a bonus; no beach but a rocky shore that provides a natural seating space.
Pondicherry also gave us the opportunity to catch up on emails. We found a little café that had French bread – of sorts. It also had wireless internet – heaven. We went back a few times and one morning planned to do quite a lot of work. Well planning has to be flexible as there was a power cut – something that happens quite regularly. Keen to wait and see if the power would come back on I spent 2 hours slowly melting in the heat (no /ac or fans) and finally gave up. The owner tried to help by making marsala tea, she had gas, and providng french bread minus the filling (we were only eating thigns that were cooked or came in a skin).
We also saw a flat advertised. It was really cheap compared with Bangalore and we decided to explore further. The contact was the owner of an up-market craft shop who sat us down to sweet marsala tea (Guy loved it!!) and vada (doughnut-shaped deep-fried lentil cake). We arranged to see the flat next day. It had been arranged that one of the shop assistants would escort us. We travelled by auto rickshaw but she went on her peddle bike. We invited her to join us but the landlord/shop owner explained an Indian girl would not be comfortable with such an arrangement.
The flat was a little sad. It was in a block of about 8 flats tucked into a small non-descript road.

The only memorable features of the road were the amount of litter scattered around and the dilapidated houses.

The flat itself was dark with shabby furniture. Surely we could do better than this.