Geography of Kochi
Kochi is in Kerala, a small state by Indian standards, occupying the south west coast of the country. Kerala is around 550km long but only about 100km wide, bounded by the Western Ghat hills to the East and the Arabian Sea to the West – a sort of Indian equivalent of Chile!
There are only about 4 significant cities in Kerala, of which Kochi is the main commercial city situated centrally on the coast of the state. Population of the city is around 1.3 million, again small by Indian city standards.
Kochi surrounds what was originally an inland lake, fed by rivers from the hills, which was breached by the sea in the 1300s, creating an enormous natural harbour. The Dutch set up a fort at the entrance to the harbour which changed hands between Dutch, Portuguese and British traders and developed to become Fort Kochi (or Fort Cochin as previously known), a very important trading and commercial centre on the main sea route from Europe to the Far East. These days Fort Kochi is chiefly important for tourism as it retains large numbers of colonial era buildings and a colonial layout of streets.
Across the harbour from Fort Cochin, essentially on the mainland, lies Ernakulam which is a busy commercial town, quite modern by Indian standards. Ernakulam has the commercial centre, the train stations, the bus station and the main road links to the rest of Kerala.
Within the harbour and forming the north side of the harbour entrance are several large islands.
These are either used commercially – forming the port of Kochi, a naval dockyard and an enormous new container port
– or are densely populated residential islands, some of the highest population densities in India.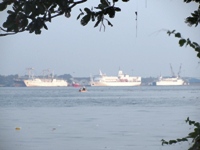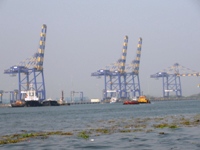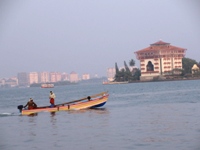 The peninsulas, islands and mainland are linked together by a network of ferries and bridges and Fort Kochi, Ernakulam and the islands have operated as a single urban entity called Kochi since the 1960s.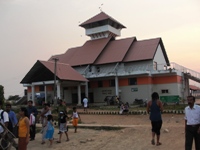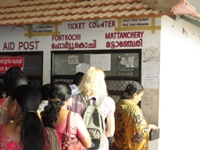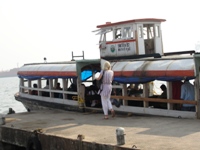 Apart from its own charms, Kochi is a useful base for visiting the rest of Kerala – which has beaches, backwaters and animal sanctuaries in abundance.
GC